Welcome to New Patients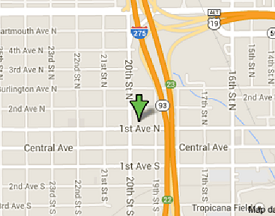 Thank you for choosing me as your neurological surgeon. Our team values the trust you have placed in us and they will do all they can to meet your expectations for quality medical care.
Always remember, if you are unable to reach us during normal business hours and if you have an emergency, please dial 911 to reach someone immediately.
For your regular care, we'll work together, hand in hand, to be your caring medical provider to help you achieve optimal health. – Dr. David McKalip
General Information for our New Patients
To make your first appointment, please call our office (727) 822-3500.
New Patient Forms
Like all doctors' offices, we have some paperwork we need new patients to complete. To save time at your first appointment, you can print these at home and fill them out before you come.
Download our new patient forms here.
Medical Records
If you are a new patient we will need to review a copy of your medical records during your visit. Please contact your current primary care physician and ask for a copy so you can bring a copy with you to your appointment.
Medical Records Release
If you are an existing patient of Start to Finish Spine Care and want to request a copy of your medical records please complete our Medical Records Release Form.
Frequently Asked Questions (FAQs)
Can you fax statements or records to me?
Only if they are going to a fax machine located in your home. All medical information is strictly confidential and must be handled with extreme care to avoid the potential of unauthorized disclosure. View the Patient Rights section to learn more about our privacy practices.
What if I miss my appointment?
Please contact our office as soon as you know you will not be able to make a scheduled appointment so we may offer that time to another individual. Although we understand that emergencies arise, we reserve the right to charge a no-show fee if the appointment was not cancelled in accordance with office policy. Practices typically require 24-hour notice.
How do I know if you participate with my insurance?
Always review your plan directory (most are online on the Web) or contact your insurance company to make sure our practice or physician participates with your insurance.
Where do I seek treatment when the practice is not open?
In case of emergency or life-threatening illness, go to the nearest emergency room. For general illness, you may elect to receive care at an urgent care facility that your plan participates with, but always remember that with an urgent situation, dial 911 and provide clear information about your location, your name, what the emergency is, and clearly repeat your phone number to the 911 operator.